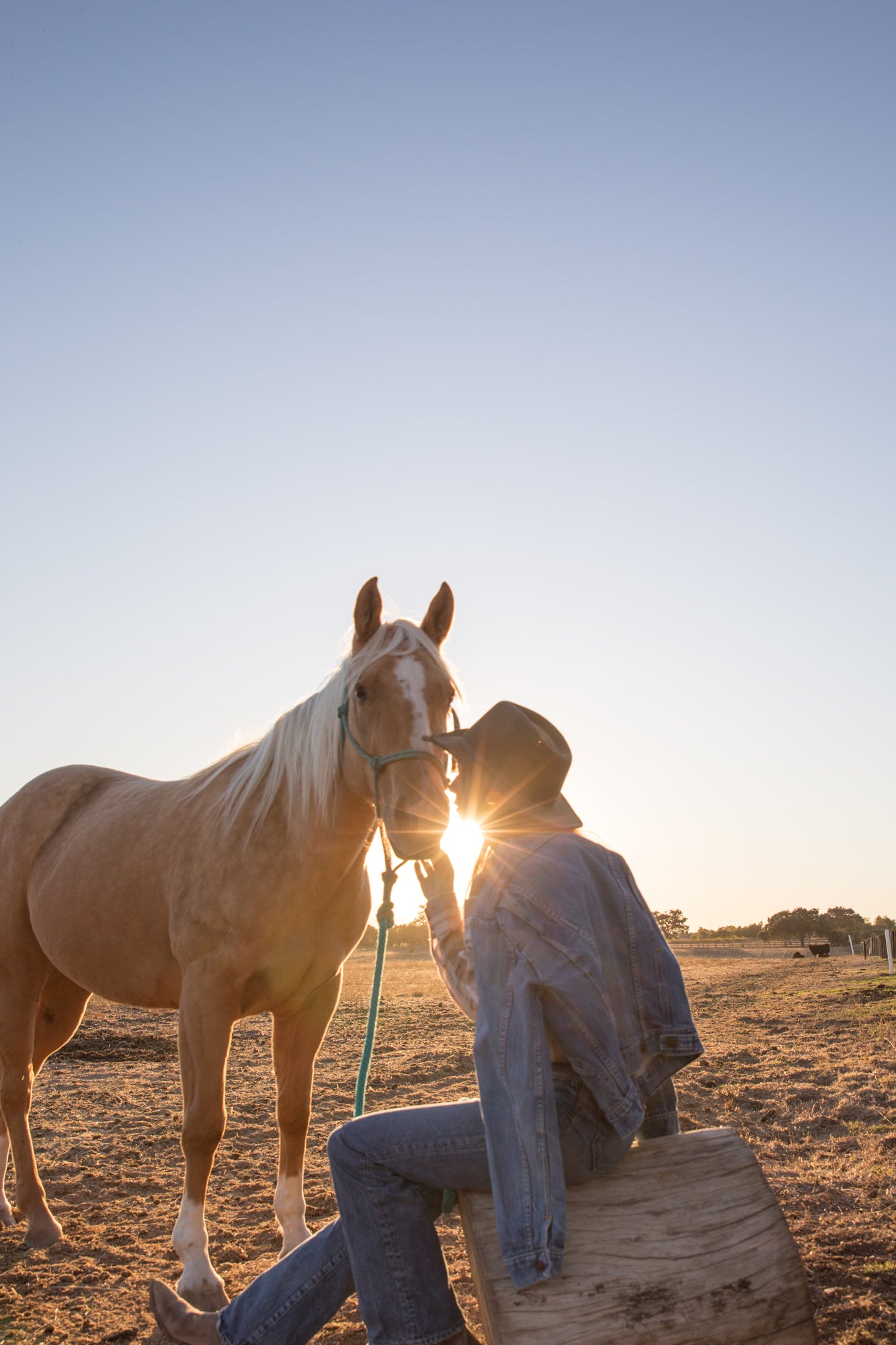 The Creator
The inspiration
We rescued just after receiving our first order
The Story
For many years Carisa has been the designer/owner of Nightcap Clothing, a luxury Lace dress line. After moving to the Santa Ynez Valley she wanted to share her love of ranch life and equestrian living through her eyes of fashion. She began designing and founded Gone With The West. After the first sweater production of Gone With The West, she took all the profits and rescued three horses that were awaiting the end of life. One of those horses turned out to have such a connection with Carisa that she still to this day resides at her ranch in Santa Ynez. That horse became the brand mascot for Gone With The West. Many know her as Mission the Mare.
HORSES SAVED
Mission
Mission was found as a 2 year old at the Kaufman Kill Pen in Texas. She was waiting a truck to Mexico for slaughter. Gone With The West paid her Bail fee and she was not put on the truck. She was later picked up by our team rescuers and taken to quaruntine in Texas before shipping to California. This was the day she arrived to her forever home in Santa Ynez. Carisa is well versed in working with all types of horses and their personalities. Mission was a horse that needed special attention to learn to trust again. Throughout the journey Carisa and Mission became bonded. For that reason she will always resider at her ranch in Santa Ynez and has since become the brand Mascot for Gone With The West.
The Mustang
Carisa has been an advocate for Wild Horses since the day she joined the Board of Saving America's Mustangs with Madeleine Pickens. The day Mission was supposed to be put on the truck to Mexico so was her friend the Mustang. Carisa joined forces with several non profits including major Wild Horse advocate and fine artist Kimerlee Curyl, and together the Mustang was saved and adopted by the Free Rein Foundation In Huntington Beach, CA. Rescue is an emotional experience. Sometimes it takes a village to get it done. We successfully rescued this Mustang alongside Mission. There are more that need to be rescued as the Wild Horse Campaign continues.
Princess
This is Princess a 35 year old Arabian. She was scheduled to be euthanized due to the fact that the elderly couple that owned her could no longer even care for themselves as they were in their late 90's and moving into assisted living. The elderly couple was trying to do right by the horse since they could not find anyone to take their 35 year old Arabian. Just a matter of days before the elderly couple was being taken to assisted living someone reached out to Gone With The West. Carisa arrived to pick up this couples horse and she found her a nearby home where she could carry out the last days of her life in a pasture. The elderly couple was beyond grateful and was able to say goodbye to their baby without euthanizing her.
The Aztec Cardigan
The Sweater That Saved Mission
Our Aztec Cardigan is a timeless piece we keep in the collection running in new colors each season. It makes your outfit come to life; and it has saved lives.
This Weeks Favorites
Our Top Sellers
Grab the Gone With The West Tee While You Can! Our Red Plaid Flannel is selling out fast! Don't miss out on the best sellers!
Hey Ya'all, Send us a Message!